From time to time, the cemetery is asked to memorialize someone. Either a family member or close friend who may or may not be interred at Oak Hill Cemetery.  In order to accommodate these "asks" the cemetery created the Memorial Tree Program. This program provides a unique opportunity for patrons to establish a lasting memorial and enhance the landscape. Patrons may select the site, the tree species (if there are multiple species designated) and the inscription for the monument stone erected at the base of the stone. Trees and monuments will be installed each fall. Commitments for trees should be made by the end of September each year.
We plant trees in the cemetery in the fall. With counsel from Bartlett Tree Experts and Casey Trees, we are selecting sites for new trees daily and determining the best species suited for each site.  Each site is evaluated as to its location, available sunlight, and its effect on the surrounding grounds for the future. The majority of the native trees in the cemetery are White Oak and Yellow Poplar.  Over the years, many varieties were added, however some (during their maturity) have become a problem for the cemetery. This is due to root invasion or sunlight blocking. Our plan is that newly planted trees will enhance the cemetery in the best possible ways for decades to come.
For each Memorial Tree, a six-inch granite monument stone at the base of the tree is placed. This monument stone identifies the Memorial Tree and its honoree. The monument stone moves with the tree as it matures, thus preserving the memorial aspect of the planting. Memorial Trees are ordered in October. They are typically delivered to the cemetery in November for a fall planting. Monument stones will be ordered at the same time as the tree so they are installed during the planting.
If you are interested in the Memorial Tree Program, please contact Paul Williams, Superintendent,  at paulwilliams@oakhillcemeterydc.org or 202-337-2835.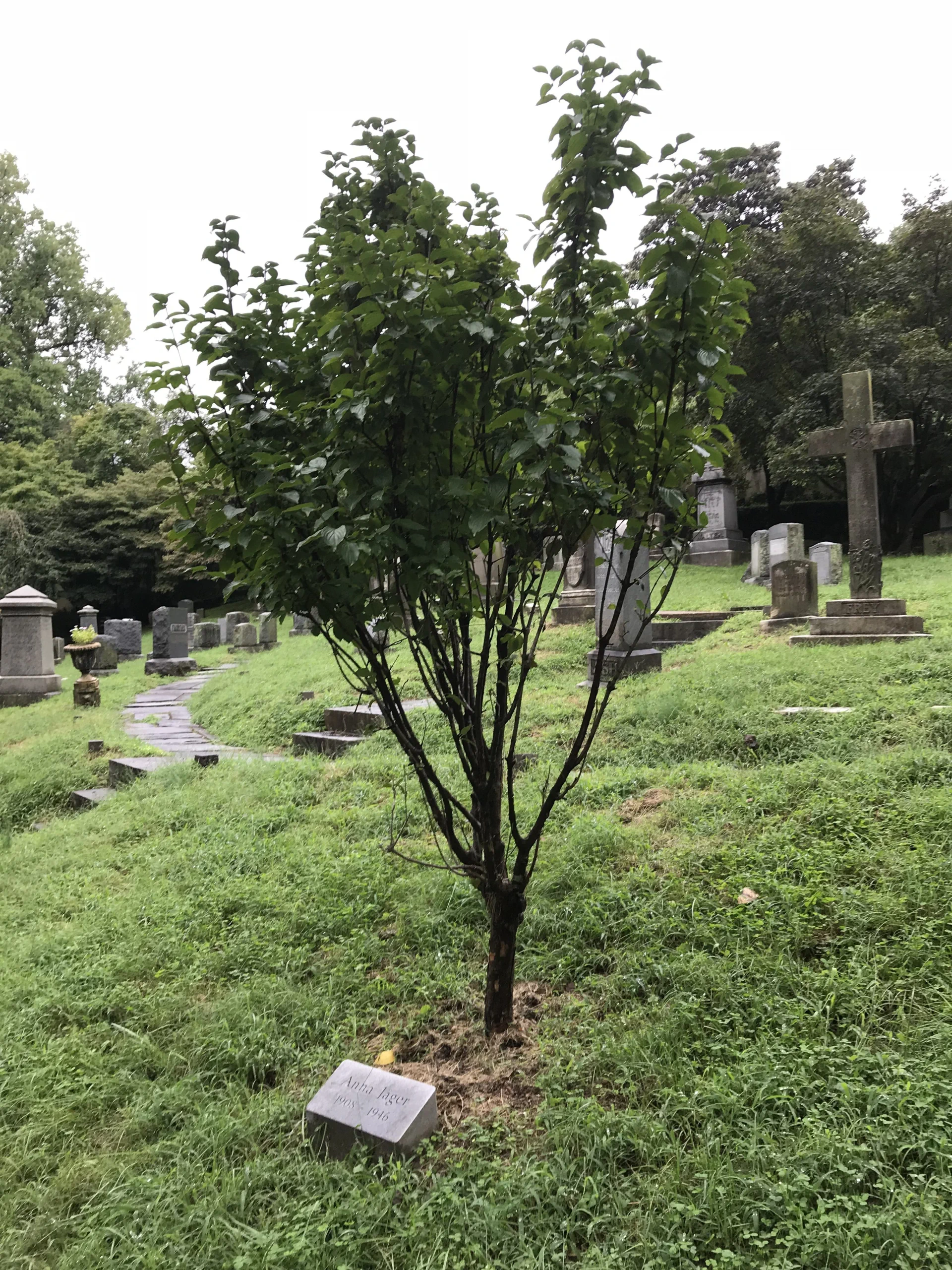 Example of a Memorial Tree with Granite Marker